Clinical Lab Services Market Growth: 5 Ways to Be Prepared
Our industry is slated for growth, and a lot of it. PR Newswire reports that the global clinical lab services market will be seeing exponential growth through to at least 2025. I do not have to look any further than my inbox to confirm that we as an industry are already well on our way to a busier future.
There are several reasons for this, including lab services technical advancements, spread of infectious ailments, and, as we've written about, more labs are becoming more DTC forward-facing. More specifically, the PRN article cites the increase in our geriatric population, a group that typically has weaker immune systems, and "this will also affect the clinical laboratory services market on positive grounds."
Another report published this past February from Grand View Research predicts growth as well: "The global clinical laboratory service market size was valued at $200.3 billion in 2020 and is expected to expand at a compound annual growth rate of 4.7% from 2021 to 2028." They point to the increase of chronic diseases and "growing demand for early diagnostics tests which are expected to be high impact-rendering drivers for market growth." This is something we are experiencing firsthand: technology is fueling growth, including the demand for the early detection of diseases.
Some may have mixed feelings about this, but I'm curious about the fact that at least a portion of growth won't exactly be organic, as marketing firms are "engaged in introducing new services to serve the unmet demand of patients." I've always seen our industry as a whole to respond pretty quickly to any new needs from patients without a marketing firm's involvement, but let's see how that pans out.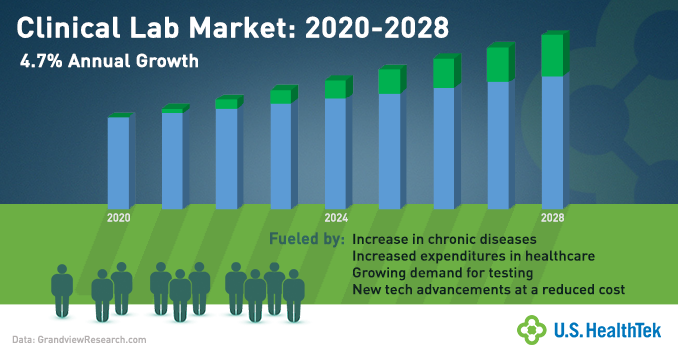 Finally, let's throw in two more points that are very real. The first is the increasing use of at-home testing kits:
The clinical chemistry segment dominated the market for clinical laboratory services and accounted for the largest revenue share of 51.5% in 2020, owing to the presence of numerous clinical chemistry tests, the introduction of new technologies, alternative sampling methods, and the emergence of point-of-care testing methods.
The second is toxicology testing:
… the toxicology testing services segment is expected to grow at the fastest rate during the forecast period. Toxicology testing is in high demand as most of the smaller and/or startup laboratories find toxicology screening clinically and financially feasible. In addition, an increase in the launch of new consumables that provide improved solutions to make drug testing easy, accurate, and fast is expected to boost the market for clinical laboratory services.
There are other variables, and exactly where it all takes us remains to be seen, but it is indisputable that growth is happening. So now the question for the individual lab becomes, what can you do today to be able to capture the market expansion that is coming?
There are five key requests we're seeing, and any of them, or combination of them, will prepare your IT operations to be ready to grow with the market.
Develop a Plan for Your Future. As this is likely going to lead to an investment — and possibly a sizable one — let's look at developing a 5-10 year plan. No crystal ball needed; just professionals with balanced, deep experiences who know to ask questions and listen rather than presume anything about your organization. Then, chart out the vision and get everyone on the same page.
IT Assessment. The second step is to do an assessment of your IT configuration, staff, and IT leadership. Since this is the building block to everything that follows, we recommend an outside set of eyes. You want a team removed from the inner dynamics of your corporate culture, but one that can also become part of the team. A wider objective perspective is really critical at this point.
Infrastructure Assessment. What systems are you using? What are the inefficiencies, and how can they be improved? Aspects of IT infrastructure, personnel, training, physical upgrade, and communication both internally and externally need to be put under a microscope.
Integration/Interface Assessment. Technology and best practices provide many tools to have your integrations/interfaces performing at a fast, accurate level. The question is really to figure out what the best approach is for each lab. Testing and assessing how different IT aspects of your organization are communicating (or in some cases, not communicating!) is something that needs to be done periodically anyway, but especially when planning and preparing for growth. Part of this definitely includes the local server versus cloud conversation.
Virtual CIO Assessment. So often we see growth hampered by budget realities, and that certainly happens with the need of executive personal. We're seeing many labs turn to a Virtual CIO as a solution. Virtual CIOs offer the experience and insight of a seasoned professional at a fraction of the cost of hiring that personnel in-house.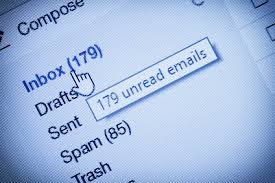 Many labs are already reacting quickly by increasing their IT investments and getting ready for expansion, and we encourage everyone to prepare now. It's a remarkable, exciting time for our industry and I look forward to helping our partners ride this coming wave of growth. Now if you'll excuse me, I have an inbox to attend to ….