Executive War College 2019: Highlights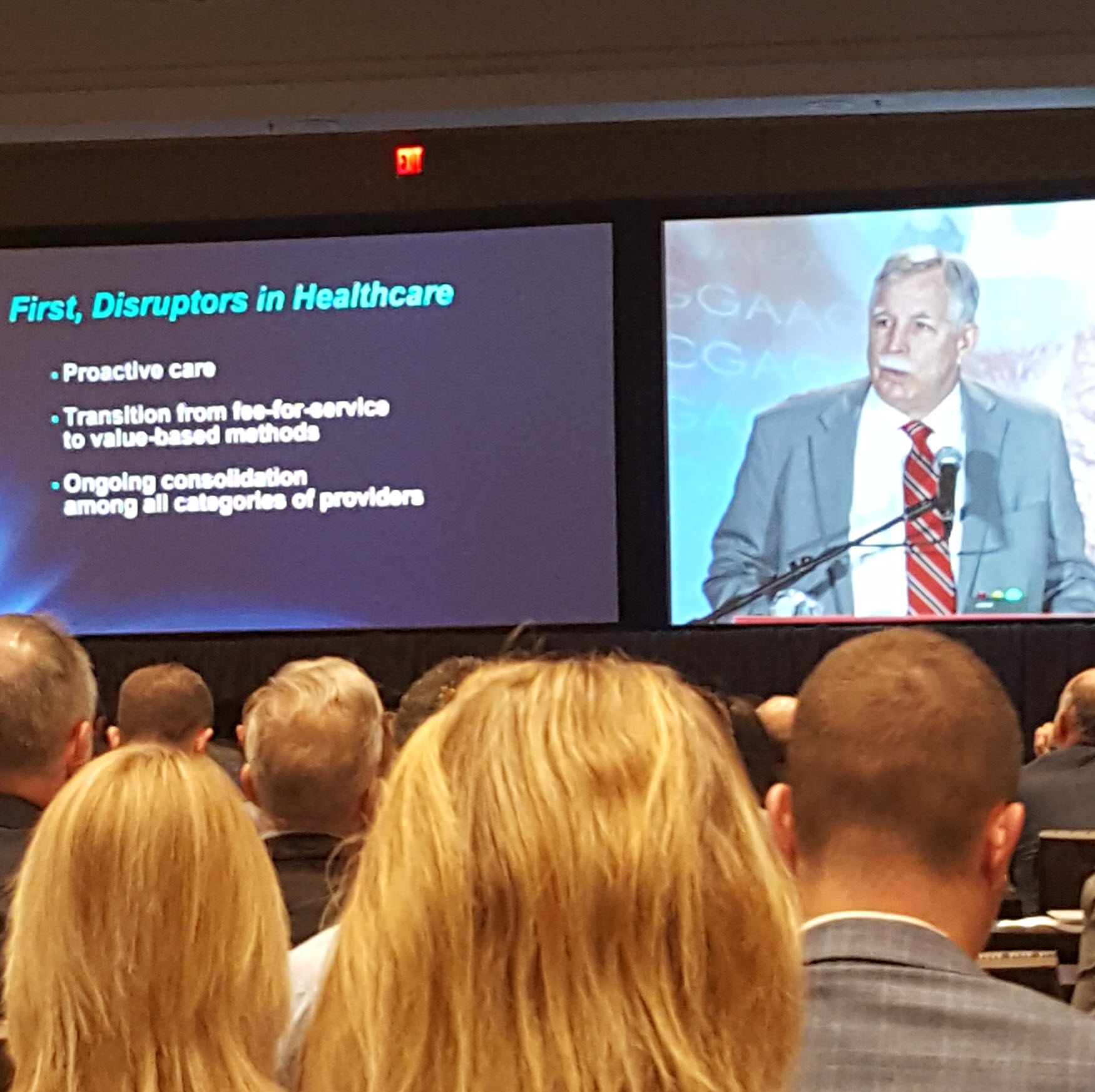 The U.S. HealthTek team is back from the Executive War College with notebooks filled, a list of people to follow up with, and imaginations percolating with ideas.
The main highlight for us is the people we got to talk to – both old friends and new ones. This face-to-face exchange is valuable not only for us, but for the industry we serve. That's why we sponsored the Grand Reception – to make sure we focused on not just industry learning, but on making personal connections with each client and colleague. And if there was ever any doubt that this is not an exciting time for medical labs and the professionals who serve them, sharing a coffee or a glass of wine at this inspiring event certainly dispels it.
Here are a few highlights:
We looked forward to Philip Chen, Chief Strategy Officer of Sonic Healthcare USA's presentation on Tuesday morning. We knew it would be a fascinating presentation and his How Labs Can Support Precision Medicine and Shared Saving Initiatives: Use of Healthcare Big Data, Lab Results, and Analytics to Support Population Health Management in Value-based Arrangements was exactly that, and offered significant insight and learning into how the right partnerships and tools are critical to Precision Medicine. Philip has been practicing pathology and running laboratories in commercial, non-profit, and academic settings for decades, and his keen insight on this vital topic was well-received.
We also enjoyed Sam Terese's presentation on Integrating Data Across 26 Hospitals and a Core Lab Using Three Different Laboratory Information Systems: Lessons from Achieving Integration and How We use These Integrated Data to Add Value. As CEO and President of PCL Alverno, an integrated laboratory delivery network of three healthcare systems with a centrally located lab (serving an astounding 27 hospitals!) and a diverse outreach population, he is absolutely one of our most respected experts in this field.
Lale White of XIFIN, another client who we partner with on many projects, gave a can-you-handle-the-truth presentation called Ugly Truth About Payers & PAMA: What Labs Can Expect and How to Respond. These healthcare regulations continue to evolve and challenge our industry, but as she so articulately pointed out, ignoring them is not an option. "Every clinical and pathology lab must understand and respond to these challenges by learning and implementing effective cost-control strategies, as well as by developing and deploying targeted lab services that deliver value and earn reimbursements."
Robert Michael of The Dark Report, who hosted the event, gave a highly-attended keynote where he dived into the challenges of this industry, in particular how healthcare's transformation and multiple disruptive forces are going to create winners… and losers. We enjoyed his insight on the topic, and are clear on what side of that equation we want to be on!
We heard that The CareSelect Lab Master Class was packed, and Navigant's Chance Scott keynote on Next-Generational Sequencing Oncology Reimbursement Policy was fascinating as well. Patricia Goede, also from XIFIN, tackled the topic of lab informatics and regulatory compliance, reimbursement, and monetization strategies. Gina Cooper of the Community Health Network took on the opioid epidemic and ways for labs to add value for physicians, payers, and most importantly, patients.
What am I leaving out? What session did you see that you found especially valuable?
Otherwise, again – it was the people that make the show especially important. U.S. HealthTek sponsors this meeting each year because of its continued excellent content and the opportunity to meet many new people and establish leads for new relationships.  Until next year!