Shout Outs Where Shout Outs Are Due
As the year winds down, I find myself being reflective. I'm grateful for all the clients we've gotten to work with this year and while we're proud of our IT work, we really treasure the relationships that come out of it.
Our decades in the business have allowed us to accrue expansive knowledge and experience, yet I find I'm more gratified that we have such amazing people. Not just capable people, but individuals who go above and beyond every single day. These are professionals who clients want to have around because our people aren't "consultants" as much as they are threads that strengthen the fabric of the companies we partner with. To give just one example of how ingrained we get …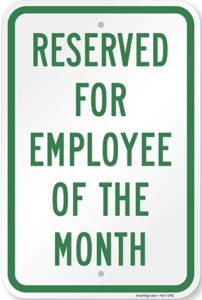 Lauren. While working with a hospital, someone there kept submitting Lauren to get an "employee of the month" designation. This executive didn't understand why it wasn't going through as everyone involved thought her remarkable contributions deserved accolades. She was there setting up accounts through the new system we implemented, troubleshooting any problems that came, and doing a lot more than what was initially expected to the point that of course she must be full-time. The executive was no doubt surprised to learn that she was in fact officially a "consultant."
While the U.S. HealthTek team brings a variety of experiences to every situation, there is one thing we know all too well: typically, in-house IT department members are not happy with a "stranger" coming into their world. Since we understand that dynamic, we come into those situations as a new member of the team, one who listens and asks questions first. We gain confidence and trust because we know it's the best way to achieve success. In Lauren's case, she did it so well, she got … well, almost got … that coveted parking spot or Panera gift card!
Mike. He's currently developing and maintaining a client's ordering systems to better serve that organization's internal clients. I was told by the executive there the other day that we can have Mike back when we "pry him from my cold, dead hands." That made me laugh, but it says a lot about how careful we are in pairing which team member with what client – and it speaks volumes about Mike's dedication and collaboration skills. In addition to this client needing the skill set that Mike has, we knew that he would be the right person to quickly understand and become part of the company culture. He is always a positive force who seizes the opportunities needed to get the job done, and I admire that about him.
Tabatha. She did such a great job with one large hospital, that she "worked" her way out of the assignment! One of the advantages of working with a consultant is that you can avoid the trouble and expense of putting someone on your payroll permanently, when what you really need is to get the expertise necessary in just the right amount. Enter Tabitha, who did such an amazing job that the 'machine' she worked on ended up running itself. But a year or so later, another project came up that needed someone who could manage a high-level, complex interface project, and the client felt that only Tabatha could do it. Back she went.
I have always appreciated Tabatha's calm and cool demeaner, and her knowledge and experience in navigating through complicated waters. In this case, she deep dived into the client's last IT system and understood it so well that resolving transition issues and pulling all the old information seamlessly into the new system was accomplished with aplomb.
Duane and Tony. These amazing guys are medical technologists with a can-do attitude and a deep knowledge base. They, too, are frequently requested by previous clients as they put whatever team they partner with at ease immediately. Watching them problem-solve, work through the process, and complete thorny tasks is something I never tire of, and I'm always enamored by their skills and abilities.
Honorable Mentions
Lauren's deaf cat, Angel. If you've had the pleasure of working with Lauren, you know Angel is on every call, completely oblivious to the volume of her participation!
Libby (aka Liberty, Libby Lou, Lou, Lucy), my Irish Wolfhound. To me she exemplifies everyone on our team because she gets up every morning determined to make a difference, does all her various tasks with a smile on her face, and has that can-do attitude that I think sets all of us apart from those who do similar work. Okay her tasks are mostly napping, squirrel-chasing, and bossing my other dogs around … hmmm … I wonder where she gets that from? But most importantly, that she does all those things so well!
How fortunate am I to have a team where every single member is a valued contributor to our industry? Very. And how grateful am I to enjoy the benefit of their friendship, good humor, and kindness? Very.  And believe me I could go on, with humans and furry companions alike – but I'll hit the pause button here and end wishing you a Happy New Year. Here's to a great, productive, successful 2022!