Turning Short-Term Growth into Long-Term Success
We're all utility players at U.S. HealthTek by design, so when our recent growth offered me the opportunity to project manage, I suited up and hit the field. It was a lengthy and rewarding immersion into a large project with a high-profile client that ended as "mission accomplished." In addition to gaining the satisfaction from that success, it lit up new growth opportunities for us, which will show long-term benefits. And I know that much of that learning can be applied to any other company looking for growth as well (and who isn't?).
When a company expands, they bring in new professionals, and those people bring in new ideas and relationships. This creates great opportunity; growth demands optimization – and for us right now, it's a question of how to optimize the opportunities that exist. The retreat we just took also inspired me, and now we're applying here what we envisioned there, with myself getting to be involved in the high-level strategic planning that has always been in this company's DNA. The focus areas that I am most excited about include new product development, partnership programs, customer service excellence training, and a customer retention program – all areas that will have a greater benefit to the company. The ace we have up our sleeve is our unique and substantial understanding of laboratory services; we understand the lines of communication in a lab, and we can modify solutions to fit exactly what our customers need. The result is a win-win, with us knocking the project out of the ballpark for our clients, and coming out a healthier company as well.
What Kind of Company Are You, Exactly?
One of the questions I have commonly been asked is "Is U.S. HealthTek a services company or a software company?"  My response is always, "Why do we have to be one or the other?" While we continue to strategically build on the expert services we offer by engaging and retaining top talent, we always have a narrow focus on developing solutions specifically to meet industry needs. As we hear from clients, generic CRM systems force square pegs into round holes; good for some industries, but for the specific workflow found in labs? Not so much. Laboratories need products that strip away the unnecessary features and functionality (ones that in many cases, never get used) and focus on tracking lab specific services related to overall client satisfaction. So our development team is improving our CRM solution for the present and future by identifying the must-have features that ensure maximum efficiency, root problem identification, and resolution for a complete picture of services. We saw a need, so we moved to fill it using our expertise, but still serving our customers directly. As long as it fits within your larger mission statement, you don't have to pigeon-hole your company into one service area or line of products; if you're able to help your customer by leveraging your talent to fill a niche or solve a problem, then go for it.
There's Always Room for Improvement
I look at this company as chameleon-like: while some clients and people in the industry only know us for the specific project we helped them with, we can tackle almost any lab-related challenge. So first, we're going to get better at letting industry leaders know our range and depth including application development and support, validation testing, IT assessments, Virtual CIO, Test Code Mapping … all in addition to our new services and product lines.
We've always been good about continuous follow-ups with our clients on active projects, but we need to strive to optimize communication with existing and new customers so that they can leverage our entire suite of capabilities to keep up with and effectively manage their own growth. To that end, we are working on an internal customer service plan. I'll be working with the team on our own internal communications, onboarding, business associate professional development, and certifications. Once we have some learnings there, we'll share more of that experience later, and whether a customer service plan might be a good idea for your company.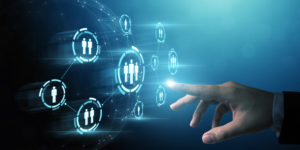 Look to the Long-Term Future
What else? Well, everything IT changes in the blink of an eye, and we continue to keep up with and stay ahead of it all. This is mission critical in our field, and it's of paramount importance to us and our clients.
We'll be raising our profile at those all-important trade shows – including participating in presentations so we can communicate with our associates more directly and personally. The exchange of ideas and the ability to listen to the needs of the industry in person is something that has always been valued by our corporate culture. Smaller projects include an updated website and communications to better represent who we are and what we can do.
As you can tell, I'm excited to be working on capitalizing on all the opportunities our recent growth has opened for us. And I think these examples show that a company experiencing growth in their client base and business can apply that growth to other areas as well, leading to longer-term benefits past the immediate ones. At U.S. HealthTek, we are determined to manage the growth in a way that benefits the greater lab industry. And we look forward to you being part of that journey.